A few weeks ago, we had the opportunity to have a sewing night. Several of my friends joined me and we made pillows and blankets for the kids in Chris Evert Children's Hospital.
Those blankets and pillows were then delivered to children that were going through outpatient and inpatient hematology and oncology treatments. The families were also given gift cards for McDonald's. Chris Evert Hospital has a McDonald's, Starbucks and a Subway in the hospital. These gift cards help make it possible for the parents to have a meal since the hospital only provides meals for the patient.
While we were visiting the hospital, we had the chance to make some crafts with the kids. Some of those kids are great with a hammer!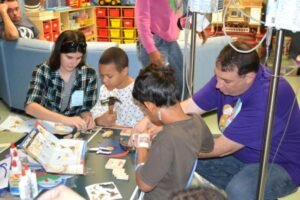 Thanks for helping us do more for so many families!